The festive season is now very much in full swing. Work-do's, Christmas parties, quality time spent with friends and family. Party season is a time for celebration, and although you might feel as if you're ready to bring on the canapes and cocktails, unfortunately, your party hair might not quite be as prepared to be centre of attention.
Our hair, especially during the colder months, can get pushed to it's limit, from everyday styling and heat damage to exposure from harsh winter weather. Plus, what may come as a shock to some of you is your hair itself can show signs of exhaustion. With the fun and excitement holidays comes stress (extra family time is fun, but overwhelming) and your strands can be worse off for it.
Need a quick and easy party hair style to take you into the festive season with a beauty-full bang? We've put together our top tips to prep your hair for the party season, ensuring it looks and feels gorgeously healthy, voluminous and party-ready.
It starts with the scalp
Your hair and scalp go through a lot of wear and tear and can easily leave your hair looking tired and dull. Plus, product and dirt build-up often sits on the scalp which can block the roots and irritate your scalp as well as affecting hair growth and overall health.
Our Defence Detoxifying Scalp Scrub exfoliating treatment is the perfect first step to give your hair a boost at the roots. With Natural Castor Oil beads and Pomegranate Fruit Extracts, it removes impurities and dead skin whilst detoxing and soothing the scalp with a cooling sensation from Menthol.
Hair Raising. Ego Boosting.
Nothing says party hair like voluminous strands and our Volumising Range is the perfect place to start. Formulated with a unique blend of proteins, Pea Peptides and feather-light active micro-emulsion to build up each strand of hair without adding weight or sacrificing body.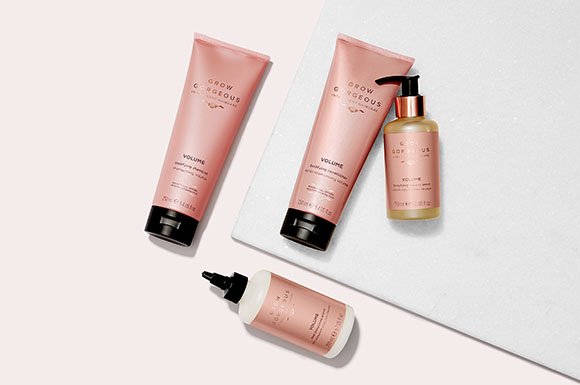 Turn up your volume
Our go-to party hair style that gets us through the entire season? A big, bouncy blow-dry. Bigger is always better for party season! It's effortlessly chic, always head-turning and with a bit of practice and patience it's easy to achieve at home. Keep reading to discover how to create a big bouncy blowout that will last until the midnight countdown!
1. Healthy Hair Starts From the Roots 
First, begin by prepping hair with our Root Stimulating Primer. Top tip: You can apply this directly onto your scalp on wet or dry hair. Leave for 10 minutes then rise to wake up hair follicles and lift roots, creating full-bodied volume.
2. Gently Cleanse and condition
Next, for gravity-defying hair and soft bouncy volume, gently cleanse hair and scalp with our Bodifying Shampoo to plump strands.  Follow by smoothing our Bodifying Conditioner through mid-lengths of your hair to gently condition hair without weighing it down.
3. Apply your serum!
Our Bodifying Leave-In Serum can be applied to the entire lengths of towel-dried hair. Resulting in lustrous volume with visibly plump and full locks. This uniquely light-weight serum has a cocktail of Amino Acids which work to bind the hair cuticle and cortical cells together, promoting lustre and conditioning without weighing hair down. Our favourite part? Touch-to-style technology. With our Volumising Range you can tease hair into shape with a simple rustle of your fingers and boost your strands throughout the evening, ensuring hair never falls flat.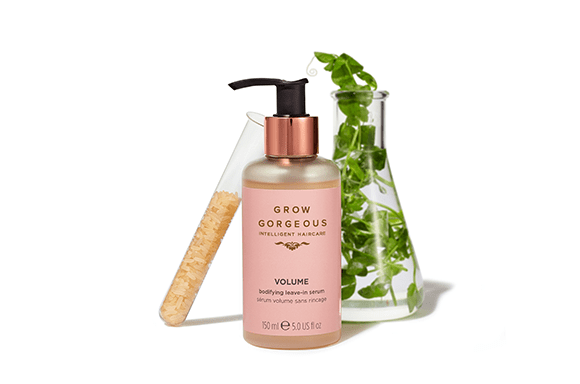 Complete your hair prep by applying 20 drops of our Hair Growth Serum to roots.
90% of women agree their hair looks fuller after using for 12 weeks*.
*Based on two independent user trials.
4. Air Dry 
Girls, we know what it's like to dread washing your hair simply because of how long it takes to dry. But one of our top blow-dry tips is to actually let your hair mostly air dry first. Blow drying soaking wet hair really isn't necessary and can damage your hair with heat. Damp hair is easier to manipulate so that your desired style can be achieved and 'set' far easier than starting with dripping wet strands. Instead of blasting wet hair until it's reasonably dry and then just, well, hoping for the best (we've all done it) leave your hair to dry naturally until it's about 70% dry and then begin styling.
5. Flip it!
Volume made easy. Flip your head upside down and blast the roots to create a natural lift. Blow-drying hair downwards will leave hair looking silky and smooth but concentrating some of that heat at the roots will help boost volume and stop strands from falling flat.
6. Cool Down
Once you're happy with your blow dry, give your hair a minute to cool down. We like using a cool blast of air right at the end of styling when your rounded hair brush is still in your hair to really lock in the style and bounce! And voila there you have all the tips you need for full-bodied, shiny, voluminous party hair for the festive celebrations.