Here at Grow Gorgeous HQ we're constantly evaluating the latest hair care trends as our mission continues to help every woman have the longer, fuller and thicker hair they've always dreamed of. We know that the secret to healthy, gorgeous hair all comes down the health of our scalps as this is where growth begins – down in the roots – so creating the perfect environment for hair growth is essential for gorgeous hair.
Our line of Grow Gorgeous products has again expanded with today's launch of our newest product, Scalp Detox. We're so excited to share all the details of it with you; so let's begin…
What is Scalp Detox?
Scalp Detox is a pre-wash exfoliating treatment that detoxes the hair and scalp by removing product build-up on the scalp that blocks the roots and disrupts hair growth. It is the first step in your hair care routine and can be used 1-2 times a week to refresh tired hair and a renew a congested scalp with its anti-oxidant properties.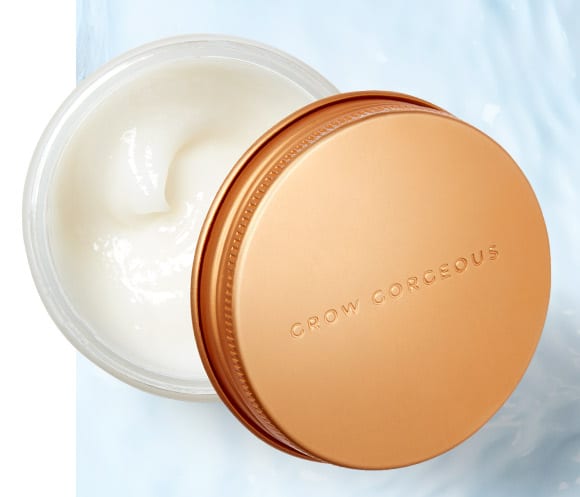 Scalp Detox uses two forms of natural exfoliators to shift dry skin to reveal refreshed and purified hair and scalp that is decongested and healthy.
The dual approach to scalp exfoliation comes from botanical and mechanical exfoliators to gently yet effectively detox the scalp. Firstly there is botanical exfoliation that comes from pomegranate fruit enzyme which uses natural fruit enzymes to gently remove the outer layer of dead skin cells to naturally exfoliate the scalp and remove product build-up.
The mechanical exfoliation comes from natural castor oil beads and white willow bark extract that help to remove any impurities and act as a natural anti-bacterial to promote hair growth and also provide that familiar texture we have come to expect from an exfoliating product so you feel this as you massage the product into the hair and scalp.
Why you need Scalp Detox in your hair care routine
Have you ever felt as though your hair is in need of a break? The hair and scalp goes through everyday wear and tear and can quickly look and feel tired. Product build-up sits on the scalp blocking the roots and disrupting hair growth and makes hair look limp and lifeless.
Scalp Detox is the first step in your hair care routine as a pre-wash treatment to detox the scalp making any products you use more effective as your scalp is thoroughly cleansed and ready to receive product.
Think about it – we take such care with our skin care routines today with pre-cleansing treatments, exfoliators and oil-balancing products for the skin on our faces – so why not treat the scalp on our the same? Skin doesn't stop at the forehead and the scalp needs to be cared for just as much as our face and bodies. Like any other area of skin on our bodies, the scalp is prone to dryness, irritation and can become sensitive due to pollution and product build-up.
We're all about scalp health at Grow Gorgeous because we all know that a healthy scalp makes for healthy hair.
What are the main ingredients in Scalp Detox?
Natural Castor Oil beads and White Willow Bark Extract exfoliate the scalp as you massage the product into your hair.
Our unique blend of minerals moisturizes the scalp and helps absorb any excess sebum helping to extend time between washes.
Pomegranate fruit enzymes gently break down the outer layer of dead skins cells sitting on the skin to detox the scalp and unblock hair roots in turn promoting optimum hair growth.
Bean Bio-ferment absorbs UV light and provides anti-oxidant protection to the hair and scalp.
Shop Scalp Detox