By now you're sure to have heard the term cleansing conditioner but we'd forgive you for feeling a little confused about how and where it fits into your routine in the shower. With so many products available on the market today it seems almost counter-intuitive to downsize your stash of hair care; shampoos, conditioners and so on but when you find something that truly works why take up valuable space in your shower with an overflow of half-used bottles?
What is a Cleansing Conditioner?
Washing your hair is as much of a ritual as your skincare routine for many women and a deep cleanse followed by a hydrating layer of conditioner comes as second nature for most. One doesn't go without the other, right? Well not necessarily. Grow Gorgeous Curl Defining Cleansing Conditioner isn't any old hybrid 'wash & go' shampoo; though that doesn't say that it's complicated to use.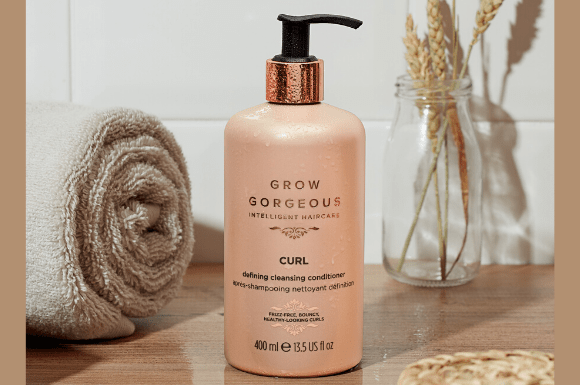 What are the benefits of co-washing hair?
Added conditioners and hydrating benefits help to tame frizz and flyaways, and help with coloured hair. Often their formulated without harmful sulphates, mineroil oils, parabens and Silicones, so the cleansing process is less damaging on the hair.
How to use a Cleansing Conditioner
Follow our easy 5 step routine to get the best from your Cleansing Conditioner.
1. Wet hair don't care
Over-washing can damage your tresses and can cause your scalp to produce excess oil. Some stylists recommend washing your hair 3 times a week, but you know your hair best – only wash when required.
Before you pick up your Cleansing Conditioner, make sure your hair is wet. Rinsing your hair thoroughly before you begin to cleanse will help to get rid of any dirt lurking on the surface of your hair, preparing it for a deep cleanse. Also remember to keep the temperature of the water cool, not hot! We all love a steamy shower but keeping the water cool will lock in moisture and prevent long term damage.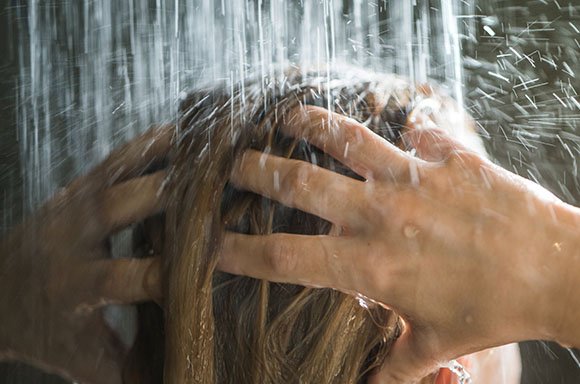 2. Cleanse & Rinse
Now to cleanse and rinse! Apply the cleansing conditioner (the amount you would usually use for normal shampoo, around 2.5cm in diameter) and work it into your scalp and the lengths of your hair. After three minutes rinse thoroughly, continuing to massage your hair and scalp while you're waiting. Did you know healthy hair starts from the roots, and massaging stimulates the scalp and hair follicles & encourage hair growth?
Remember that, unlike traditional conditioners, cleansing conditioners don't need to be liberally applied to the ends of your hair. The golden rule – remember to wait 3 minutes before rinsing.
3. Protect Ends
Grow Gorgeous Balance Fibre Sealing Split Ends Treatment will make your hair look healthier with the nourishing serum that repairs the ends of strands with a blend of Amazonian oils, including acai, palm and Inca Inchi for stronger, reinforced strands without feeling weighed down or greasy.
4. Skip the heat
Cleansing conditioners cleanse and nourish your hair and prevent it from drying out, so avoid over-using heated hair tools when possible. Air drying your hair once a week can go a long way in improving your hair health. Even turning down the heat on your tools will help to reduce the damage caused to your hair.
Remember before you reach for styling irons or tongs; make sure your hair is fully dry. Exposing even slightly damp hair to intense heat can cause long-lasting damage, as your hair is more vulnerable when it is wet.
5. Put Down The Products
Using a CC helps improve shine and reduce frizz making strands easier to style and curls more defined –so you can ditch more than just your shampoo.
Your newly nourished, super-shiny, thicker, stronger and longer hair will hold styles better, reducing your need for harsh styling products or damaging extensions – your bank balance will thank you later.
88% of women agreed their curls were more enhanced.*
Our Curl Defining Cleansing Conditioner provides a more gentle cleanse before wash days. It's also expertly formulated with a unique blend of Oat Lipids Complex, Crambre Oil, to leave hair and scalp feeling nourished, moisturised and more manageable!
Influencer @GhanianCurls shows us how she uses our CC.
"Not only does it smell DIVINNEEEEE! It feels amazing on my hair! The shampoo doesn't strip and the conditioner is a super good detangler! Took me seconds and y'all saw the state of my hair! Leave-in is super light and moisturising, melts into the hair. I tend to stay away from butters as they are heavy for my hair but this gave my hair good hold and definition without weighing my hair down. Safe to say this is successful wash and go!"
Grow Gorgeous Defining Cleansing Conditioner is ideal for all types of waves, coils and kinks and works well on both thick, curly and super fine hair to control frizz and eliminate flyaways. Our routine has been expertly designed with Curl Technology and powerful skincare grade ingredients to look after hair from root to tip. We've also tested the Range on up to type 4 hair. Check the chart below to find your type!
What is Curl Technology?
GG's Technical Director Robin Parker explains: "The curl technology used in GG is a combination of two advanced active ingredients designed to enhance and retain curls. Based on the principle of adaptogensis, the technology has been shown to work on hair that has undergone different forms of stress from extreme heating, colouring and styling.
"Based on natural plant oils from wheat and bran it delivers a memory effect to the hair helping it to retain the natural curl even after treatment. The second material in the combined complex to help lock the curls in place."
*Based on independent user trial.
Tips and Tricks
Head over to our YouTube channel to watch Vloggers have their say on our GG Intelligent Haircare Ranges, hair hacks and more! Plus, discover the full Curl Range here and how to incorporate the CC into your routine!