We can all agree that a full haircare regimen can take a large chunk out of the evening. From the shivery wait in your towel while the mask works its magic to the arm-aching blow-dry, it all takes effort and time. However, you know that this is not wasted effort. In fact, you expect at least three days of shiny, glossy locks as a result. However, have you found that on day two, a different sort of shine appears at the roots, leading you to question: why does my hair get greasy so fast? Well, first of all, it's not just you. This is a problem that many have to endure, and there's plenty of factors that can be causing it.
Keep reading for all you need to know about why your hair may be getting so greasy, so fast.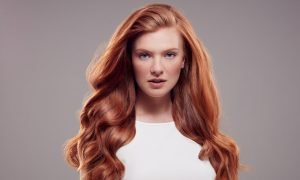 Why is my hair so greasy?
The first reason why your hair may be getting so greasy is due to over-washing. Do you remember the days of spontaneously deciding to shampoo? No routine, no wash-days, no concerns. These days, the majority of us have a strict haircare routine in place to prevent over-washing and damaging our delicate strands. However, if you are still doing a daily wash, this is your sign to change your ways immediately. According to Healthline, every time you wash your hair with shampoo, it sends the scalp a signal to produce more sebum. Therefore, if you wash your hair too often, your scalp can go into overdrive to produce oil.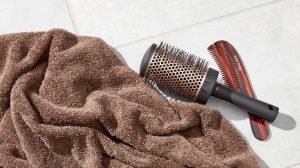 If you have narrowed your washes down to once every few days but still find yourself wondering why your hair is so greasy, you may need to assess product build-up in your hair. A build-up of product is almost inevitable after a stretch of time, especially if you're using silicone-based products which don't rinse out easily. What's more, you need to consider your hair's porosity. If you have straight hair that takes a while to dry, you're more likely to have a build-up in the roots.
As always, there is of course, your personal lifestyle to consider. A poor diet and high stress levels can be contributing to why your hair gets so greasy so fast. Meanwhile, regular sweaty exercise can also be something to factor in.
How to stop greasy hair
If you have gotten into the habit of washing your hair everyday, it will take some time to adjust to your new regime. However, once your hair adjusts, you will notice quite a difference by simply giving it a break between washes. As some hair types are naturally oilier than others, how often you should shampoo depends on which category your hair falls under.
If you have fine hair: every second day may suit you best.
If you have medium hair: every two-three days is recommended.
If you have thick hair or coiled curls: you may stretch a day or two longer. However, make sure to wash after day four- for hygiene's sake.
The first step how to stop greasy hair is to wash it with warm water to open the hair follicle. Following that, cleanse the scalp of any excess residue by using a scalp scrub once or twice a week. Make sure to choose a scrub that is effective yet still gentle on the delicate scalp to prevent irritation. Our detoxifying scalp scrub contains White Willow Bark Extract and Bamboo Exfoliating Particles that lightly exfoliate, Grapefruit Extract to stimulate, and Pomegranate Enzymes to gently loosen dead skin cells and remove product build-up in the hair.
Follow the pre-wash scrub with a shampoo and conditioner designed to remove excess sebum and provide a barrier against urban pollution. The result is clean, protected, radiant looking hair.