Turn up your volume!
It's time to plump up skinny strands with the newly formulated Volume Range. Get envy-inducing, gorgeously healthy, gravity-defying hair! With a peptide-rich Shampoo and air-light Leave-In Conditioner, plump skinny strands and build gorgeous volume and body without weighing hair down.
Here at Grow Gorgeous HQ we're not about the superficial. We want hair that not only looks healthy, bouncy and voluminous but feels fabulous from root to tip too. That's why we've reformulated our volume range to nourishe each and every strand whilst still giving fabulous air-light volume, without potentially harsh ingredients! There is no need to damage strands back-combing, as our products are formulated with touch-to-style technology that allows you to tease hair into shape effortlessly.Give your hair (and your ego!) a beauty-full boost with the complete routine…
Step 1: Volume Root Stimulating Primer
On wet or dry hair, apply this root stimulating prier, formulated with Caffeine, Red Algae, Menthol, and Rice Protein, to wake up hair follicles and create full-bodied volume. We love its cooling formula which leaves scalp feeling refreshed and reinvigorated roots appear lifted and bouncy, and strands more manageable with increased shine – leave on for 10 minutes for maximum results.
Step 2: Volume Bodifying Shampoo
This revolutionary volumizing formula is packed with active ingredients to build your volume straight from the root! Pea Peptides act as a film-former building up each strand leaving you with gorgeously full and healthy hair. These hard-working proteins continue to work over time, so your hair never falls flat. This boosting formula also contains feather-light active micro-emulsion that helps to repair and protect hair strands without adding weight or sacrificing volume.
This shampoo is perfect for thin or tired-looking hair that needs a little added 'oomph.'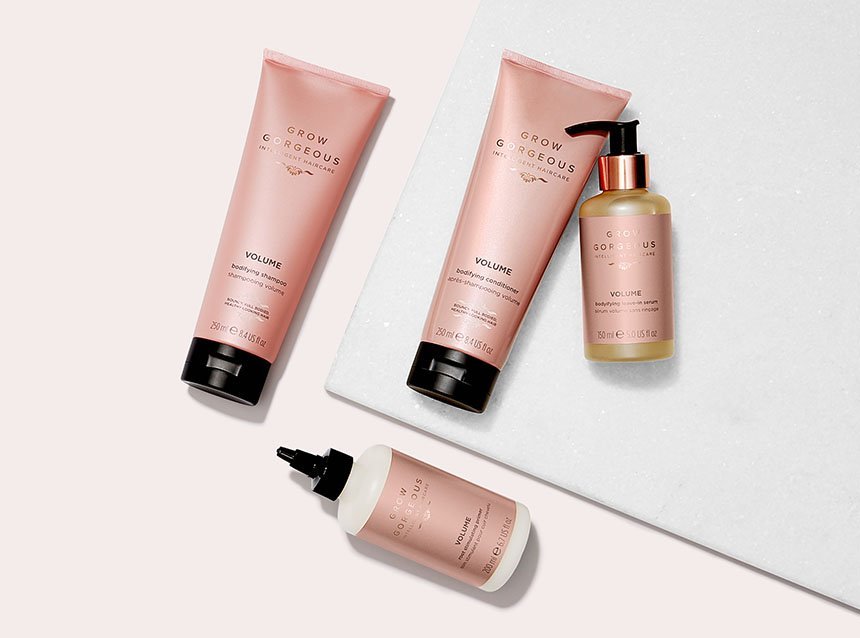 Step 3: Volume Bodifying Conditioner
Experience the boosting abilities of our Full Bodied Leave-in Conditioner and forget about regular conditioner that can weigh hair down. This serum-based formula gives hair a bouncy, soft texture and maximum volume. Formulated with a unique cocktail of Amino Acids which condition hair and provide longlasting luster. Low and Medium weight plant-derived proteins condition the hair fibre inside and give a boost in volume without weighing hair down.
Step 4: Volume Bodifying Leave-In Serum
Complete your routine and build weightless body with a serum that's light as air! Did you know its formulated with Amaranth Seed Extract which increases hair diameter, for natural-looking hair with a healthy shine.
For the best results use the full range with our Grow Gorgeous Density Serum, which stimulates hair growth right from the roots.
Catch up on more from the GG HQ