Can scraping your hair with scissors reveal hidden silicone build-up? If you've been active on social media lately, you may already have seen this recent 'haircare hack' – but testing for silicone build-up this way can actually do more harm than good. 
In a lot of cases, the hair cuticle – categorised as the outermost layer of the hair strand – is scraped away, giving the illusion of product build-up being removed. This test exposes hair to damage and leaves strands almost 'raw'. Similarly, to our skin, which needs its layers to protect us from infection or water loss, the hair cuticle protects your crowning glory from damage and helps to retain moisture.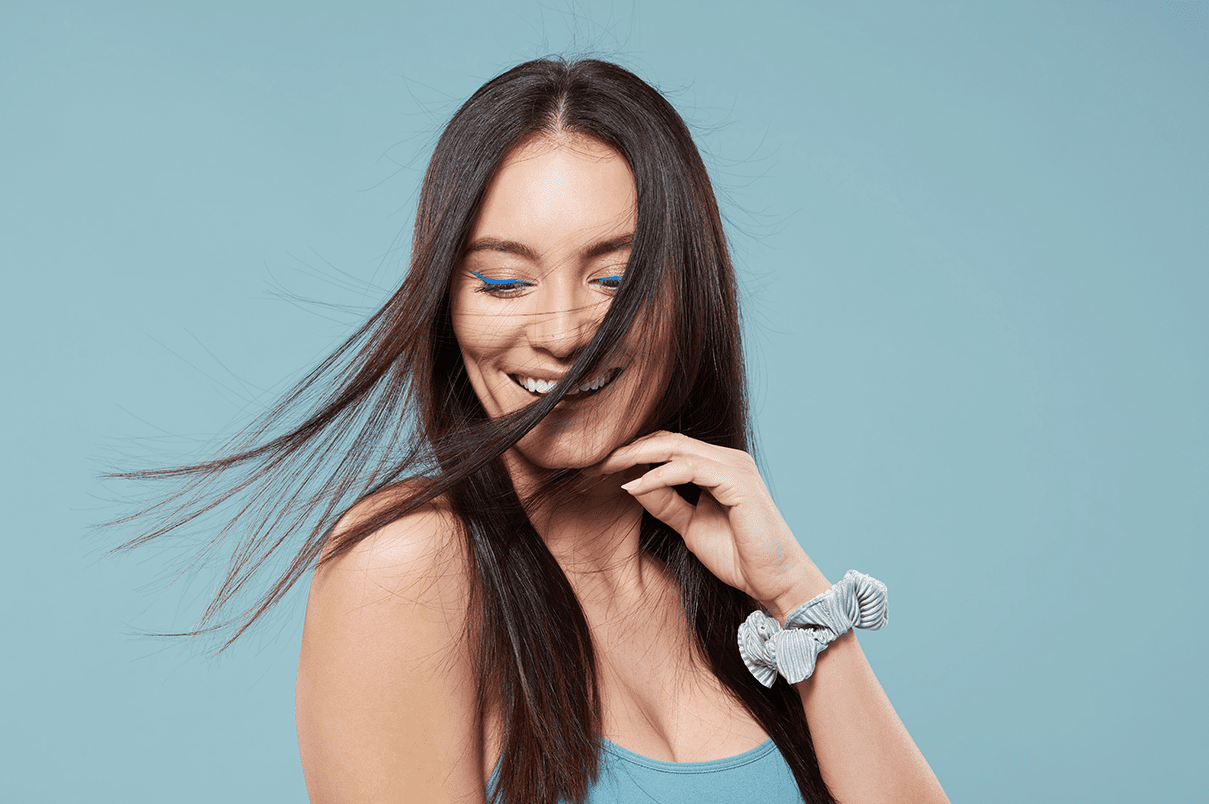 But why do the test at all? Are silicones bad for your hair? And what are the benefits of silicone-free shampoo and conditioner? 
WHAT IS SILICONE?
A silicone, or polysiloxane, is a polymer made up of siloxane. They are typically colourless oils or rubber-like substances. Silicones are used in sealants, adhesives, lubricants, medicine, cooking utensils and even some cosmetics, haircare and skincare! Silicones are a controversial topic in the haircare community. But never fear – we've done all the research, so you don't have to! 
DOES SILICONE DAMAGE HAIR?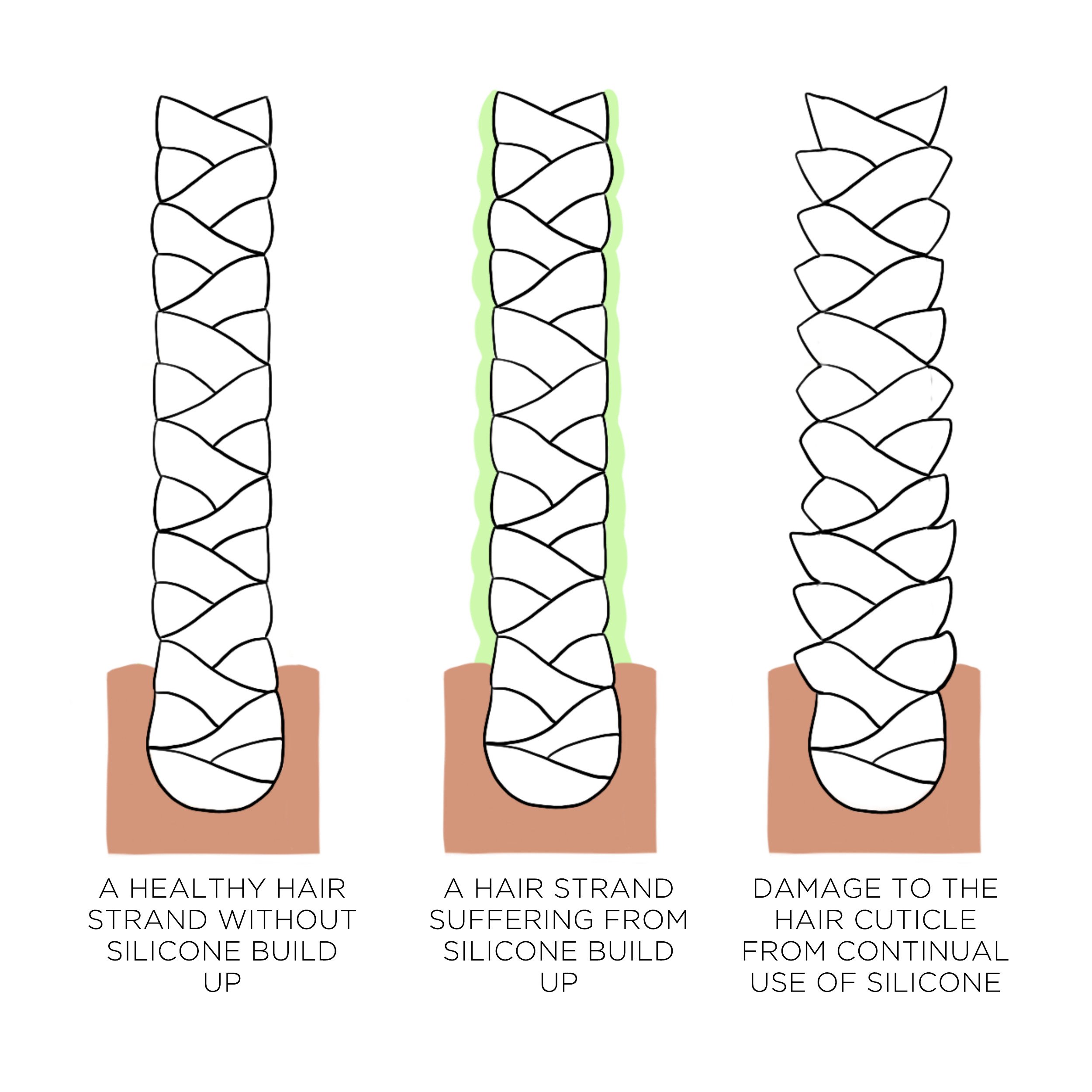 Silicones can damage hair. The build-up they leave can render your locks dull and lifeless, ultimately stopping your lust-for-lustre in its tracks! The reason for this is that most silicones are hydrophobic, meaning they repel water. In your body, silicone will displace water and push it away. In hair, which has moisture levels of only 3%, the protein bonds that make up 97% of hair become less stable and more liable to break when you remove hydration from the equation.  
DO GG PRODUCTS CONTAIN SILICONE?
Here at GG, all our haircare heroes are silicone-free! They're also vegan-friendly, gluten-free and formulated without parabens, sulphates, phthalates or mineral oil. We believe that true beauty radiates from the inside out. Our nutrient-rich products are powered by science to transform the health of hair from its very foundations – the roots. Skincare-inspired ingredients nurture your scalp and lay the foundation for optimum growth, so you can fulfil your desire for fuller, healthier-looking strands. We've taken the extra step to remove any possible stressors, so you can just focus on keeping your hair and scalp looking and feeling gorgeous.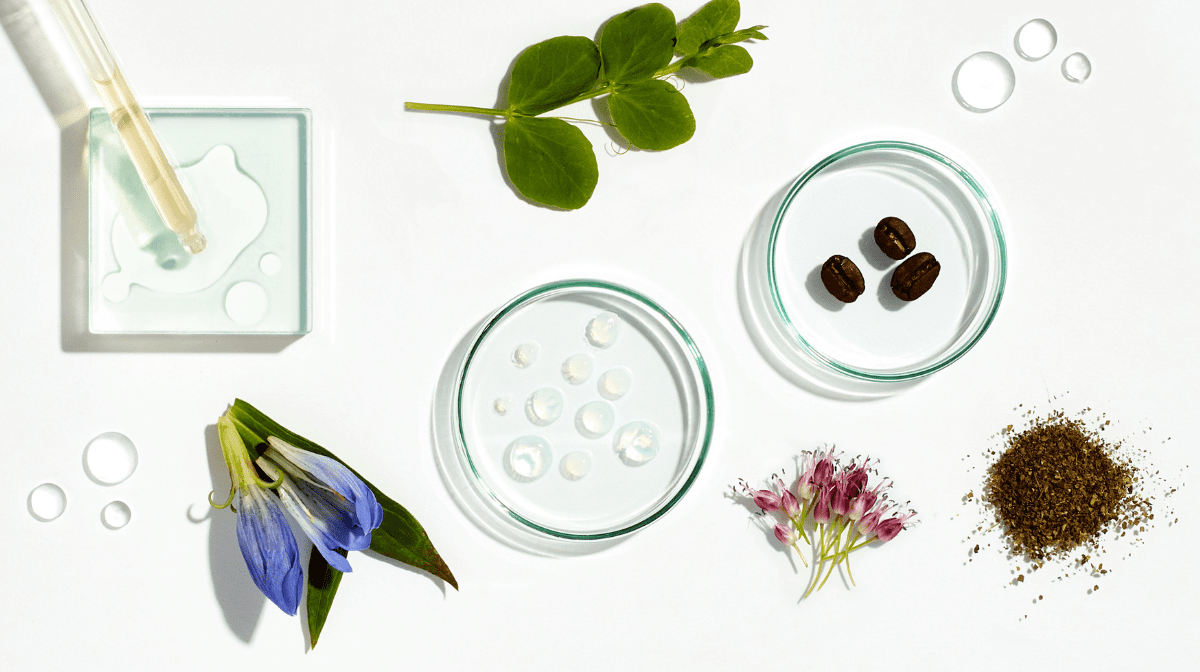 HOW TO TEST FOR SILICONE?
Wondering how to test for silicone in your hair? It's super simple! If you suspect silicone build-up, look out for heavy, lifeless hair that lacks shine. You may have noticed an increase in the amount you're washing or a change in your usual oil production levels. Our recommended method is simply to check the ingredients list of your products. Although all of our haircare heroes are thankfully silicone-free, it still helps to know what to look out for! 
WHAT SHOULD I AVOID?
Non-Water-Soluble Silicones:
Amodimethicone
Dimethicone
Pheryl Trimethicone
Ceteraryl Methicone
Dimethiconol
Amodimethicon
Stearyl Dimethicone
Water-Soluble Silicones:
Dimethicone Copolyol
Cyclomethicone
Lauryl Methicone Copolyol
Any silicone with PEG as a prefix
HOW TO GET SILICONE OUT OF HAIR
Thankfully, there's no need to resort to scraping to get silicone out of hair! Although all of our silicone free shampoo and conditioner duos will do the trick of gently cleansing silicone from your hair and scalp, our Defence Range will also imbue your locks with new life and added protection. Ward off pollution and damage by following our routine for healthy, hydrated hair: 
STEP 1:
Wet hair and massage a generous amount of Detoxifying Scalp Scrub into your scalp to refresh, gently exfoliate and remove silicones, excess sebum and dirt
STEP 2:
Rinse out with our Anti-Pollution Shampoo to gently cleanse the scalp and remove impurities to restore glossy, radiant strands
STEP 3:
Smooth our Anti-Pollution Conditioner through the mid-lengths of your hair to deeply nourish strands and protect hair from damage caused by external stressors
STEP 4:
Spray our Anti-Pollution Leave-In Spray onto towel-dried hair before blow-drying. Comb through and style as usual