No matter your hairstyle or texture, we all go through dry frizzy hair days. Whether it's caused by waking up on the wrong side of the bed, summer humidity or winter fog, frizz can ruin ALL our styling efforts! If you're looking for the secret to healthy, glossy strands then you've come to the right place, because frizzy to silky hair starts with an effective haircare regime.
Dry Frizzy Hair

 vs 

Extremely Dry Frizzy Hair
Now, we're not saying there's anything wrong with a bit of frizz and texture – we love the natural hair movement – but when it comes to combatting frizz, slathering on any old product just won't cut it. Knowing the difference between dry frizzy hair and damaged frizzy hair will inevitably be your go–to for picking the perfect haircare routine.
Signs of dry frizzy hair

:
Uneven texture

Lacking in shine

Itchy scalp
Signs of damaged frizzy hair

:
Extreme breakage

Brittle ends

Dull strands

Itchy, irritated scalp

Hair loss
Why Is My Hair So Frizzy?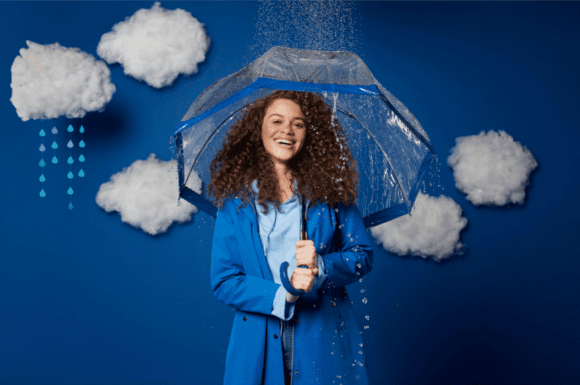 If you grew up in the noughties and were a slave to teenage trends, you'll understand the turmoil of spending hours straightening your locks in the mirror only to be defeated by the atmosphere – turning your hard-earned, poker straight strands into frizzy waves (the agony). We all wanted super sleek strands, but at what cost?
Hair contains keratin proteins and hydrogen bonds. Using hot tools slowly but surely strips your crowning glory of natural oils and proteins, ultimately breaking down its hydrogen bonds. Don't worry – we forgive you for not understanding hot tool damage back then (or grabbing the iron!). But no wonder we were all asking 'why is my hair so frizzy?'
And let's not forget the famous F.R.I.E.N.D.S episode where Monica's hair reaches new heights thanks to the humidity in Barbados. So, you can see why hairstylists and beauty enthusiasts worldwide united in the fight against frizz. Since then, dry frizzy hair has remained a hot topic among haircare professionals.
Dry frizzy hair arrives, unannounced of course, when our strands are lacking in moisture and our hair wildly tries to absorb the moisture from the air.
Reasons for dry frizzy hair:
Humidity

 

Hot tools

 

Overbrushing

 

Rigorous towel drying

 

Processing hair

 

Hot showers

 

Split-ends

 

Sun damage

 

Chlorine damage
How To

 

Get Rid 

of

 Frizzy Hair

In 3 Steps
While we can't control the weather in the US. we can have an arsenal of products to hand to help keep the frizz at bay. We've created an easy 3-step solution to go from frizzy to silky hair with three hydrating steps.
It's no secret that GG are experts in the field of frizzy hair treatments and frizzy hair products. Glossy, healthy strands start in the roots, and we have the best at-home hair hacks to help keep your strands looking gorgeous and healthy-looking.
Step 1: Shampoo
With many frizzy hair products out there, it's important to note that a great shampoo can do wonders for your hair. A deeply nourishing shampoo can help you go from frizzy to silky hair in minutes!
Give your dry frizzy hair some love with our Balance pH-Balanced Shampoo: a gentle, cleansing formula that won't strip hair of its natural oils.