If you're wondering what is pH and why is it important for your hair, we have all the answers! Here's the science bit – pH plays an important role in the strength of your hair. The pH scale runs from zero to 14, with 0 – 6 being the acidic side, 7 being neutral and 8-14 being alkaline.
Your hair's natural pH should sit somewhere between 4.5-5.5 and this is when it's at its healthiest! The problem is external aggressors such as coloring, bleaching or even certain shampoos can disrupt the delicate pH balance.
What happens? The outer layer of your hair starts to lift causing issues like breakage and frizz. Plus, the more alkaline your scalp, the more chance there is of bacteria and oils being affected, which can potentially cause dandruff and grease.
Therefore, keeping the pH as it is, that's a good thing!
Why is pH for haircare important?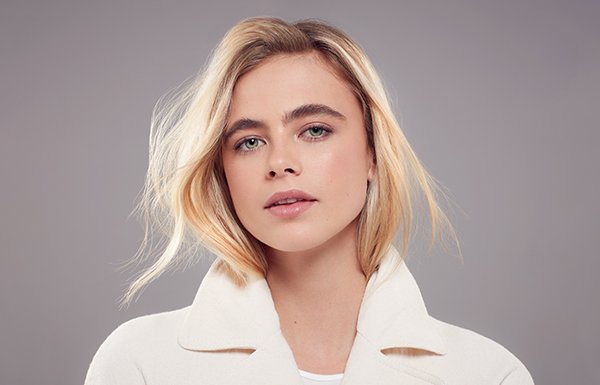 Healthy hair starts from the roots, which is why the science behind hair growth matters! Here are 3 reasons why pH balance haircare is important for gorgeous, glossy and healthier-looking hair.
1. Protect hair from bacteria
A normal pH balance helps to seal hair cuticles, prevent unwanted breakage and lock in natural oils. It acts as protection against bacteria and fungus. Maintaining a pH balance between 4.5-5.5 helps with this.
2. Support hair growth
Did you know hair products formulated more alkali cause hair follicles to expand, releasing moisture? Losing moisture can actually stall hair growth, as strands become dry and brittle. Using a pH balance haircare to gently cleanse and remove the build-up of products and dead skin cells, without stripping hair of moisture levels helps support hair growth.
3. Maintain moisture
Moisture is key to gorgeous, glossy and healthier-looking hair. When your hair loses moisture, it can become dry, lackluster and prone to breakage. Sebum is a natural oil that protects your scalp and hair to keep it healthy and moisturize. Look out for pH balanced conditioners that nourish strands without leaving residue to disrupt your hairs sebum levels.
Give your strands a cleanse
What's the secret to optimal hair pH? Introducing Grow Gorgeous pH Balancing Routine. Healthy-looking, glossy hair is important to women of any age, which is why we created a haircare range specially formulated to cleanse strands without disrupting the delicate pH balance of the hair and scalp – or stripping of natural oil sebum.
Robin Parker, Technical Director of Grow Gorgeous, shares his advice on using a pH Balanced routine to boost your hair. "The Balance product range has been carefully formulated to give your hair and scalp the best chance of restoring this natural, symbiotic balance."
"Designed to help maintain a slightly acidic pH and formulated without aggressive detergents the routine will help the scalp help itself in returning to a healthy balanced state."
pH Balance Haircare Products
January is the perfect time to reset, recharge and refresh your routine!  This includes your hair too! The build-up of post-party styling products and a change in diet can have effects on your health. An everyday range for all hair types for caring, cleansing, stripping back and maintaining a natural look. Here's your 4 step routine to glossy, manageable, healthier-looking strands!
Step 1: Sleeping Beauty
Treat your hair and scalp while you sleep, with our Shine-Enhancing Mask, £25, fortified with Patua and Acai Oils, AHA Complex and Hyaluronic Acid to help frizz under control and reveal gorgeous, glossy and vibrant hair when you wake.
How does the AHA Complex work? Robin explains: "It works in two ways. It helps to smooth the cuticles of the hair, increasing shine and healthy appearance. Also, AHA's have a mild exfoliating effect on the scalp, this helps to lift the plaques of dead cells."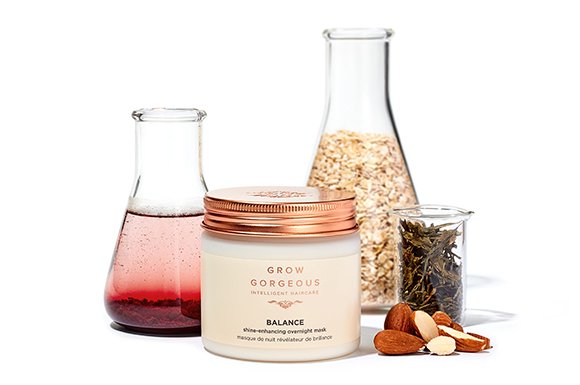 Step 2: Gently Cleanse
The next step in our balance routine, our pH Balanced Shampoo gently cleanses without stripping strands of natural oils. Formulated with Caffeine to stimulate the root and Burdock Root, Ivy, Rice and Fenugreek Extract to help nourish, deeply condition and enhanced shine.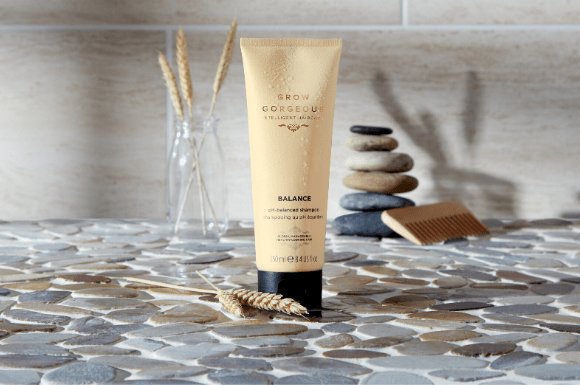 Step 3: Deeply condition
Leave strands feeling deeply conditioned and easy to manage with the lightweight pH Balanced Conditioner, £16. What makes it a must-have? It nourishes hair without leaving residue and is formulated with a unique complex of Oat Lipids and Shea Butter to help reinforce the scalp's natural barrier to lock in moisture, leaving supple, silky-looking strands.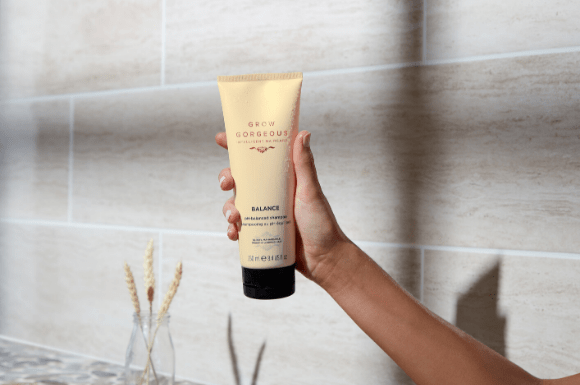 Step 4: Rebuild Broken Strands
The last step of our Balance routine is our Fibre Sealing Split Ends Treatment, £23. Simply work into damp hair, paying special attention to ends, to help smooth and rebuild broken strands. This fiber-sealing serum has been expertly formulated with Black Oat and Cuticle-Smoothing Technology to seal cuticles and improve smoothness, gloss, and bounce. Less split ends = less frizz!
"94% of women said that their hair was left free from residue."

Find Your Balance
Our gorgeous Ambassador Olivia Rose Smith (@OliviaRoseSmithx) reveals how she achieves healthier-looking hair: "Ever since I lost my hair GG is the only products that I have really used and absolutely swear by them. I have seen the research that goes into it, I have met the scientists behind the products. It's so important for me to use because I don't want to be damaging my hair as it's brand new," she says.
"I absolutely swear by these products to improve the condition of your hair. I fully trust these products and they do what they say on the tin which is really important to me!"
*Claims based on an independent user trial.