Trends may come and go, but with the right care beautifully defined curls are forever.
Here at Grow Gorgeous, we keep on top of all the latest hair hacks so you don't have to sweat the details. If you have wavy, curly or coily hair you've no doubt tried everything to ward off dryness and nail your frizz control. But we know it's not always easy, especially with the cold weather upon us. That's why we recommend co-washing hair with a cleansing conditioner: a tried and tested method that's proven to smooth all curl types and keep your scalp soothed, day after day.
'Co-washing', otherwise known as 'conditioner washing', is a one-step routine that cleanses and nourishes hair simultaneously. If you have textured or afro hair and you don't already co-wash, you're missing a trick. Simply skip the act of shampooing when you wash and focus on keeping your curls in tip-top shape by using a dedicated cleansing conditioner.
Not got textured hair but suffering from chemical or heat or damage? As a method with proven benefits for extremely dry and damaged tresses, co-washing hair could still be for you!
What are the benefits of co-washing hair?
The benefits of co-washing can include hydration, improved texture and enhanced glossiness… not to mention all that hydration is bound to give you some serious frizz control! While harsh formulas can strip hair of essential oils and moisture, co-washing trains hair to maintain healthy levels of these naturally. When washing curly hair, bear in mind it needs more of these natural oils to maintain a healthy condition. That's why we're such a fan of this one-step, dream routine. You could see an increase in volume and a decrease in frizz from day one! Sounds great so far, right?
What product should I be using?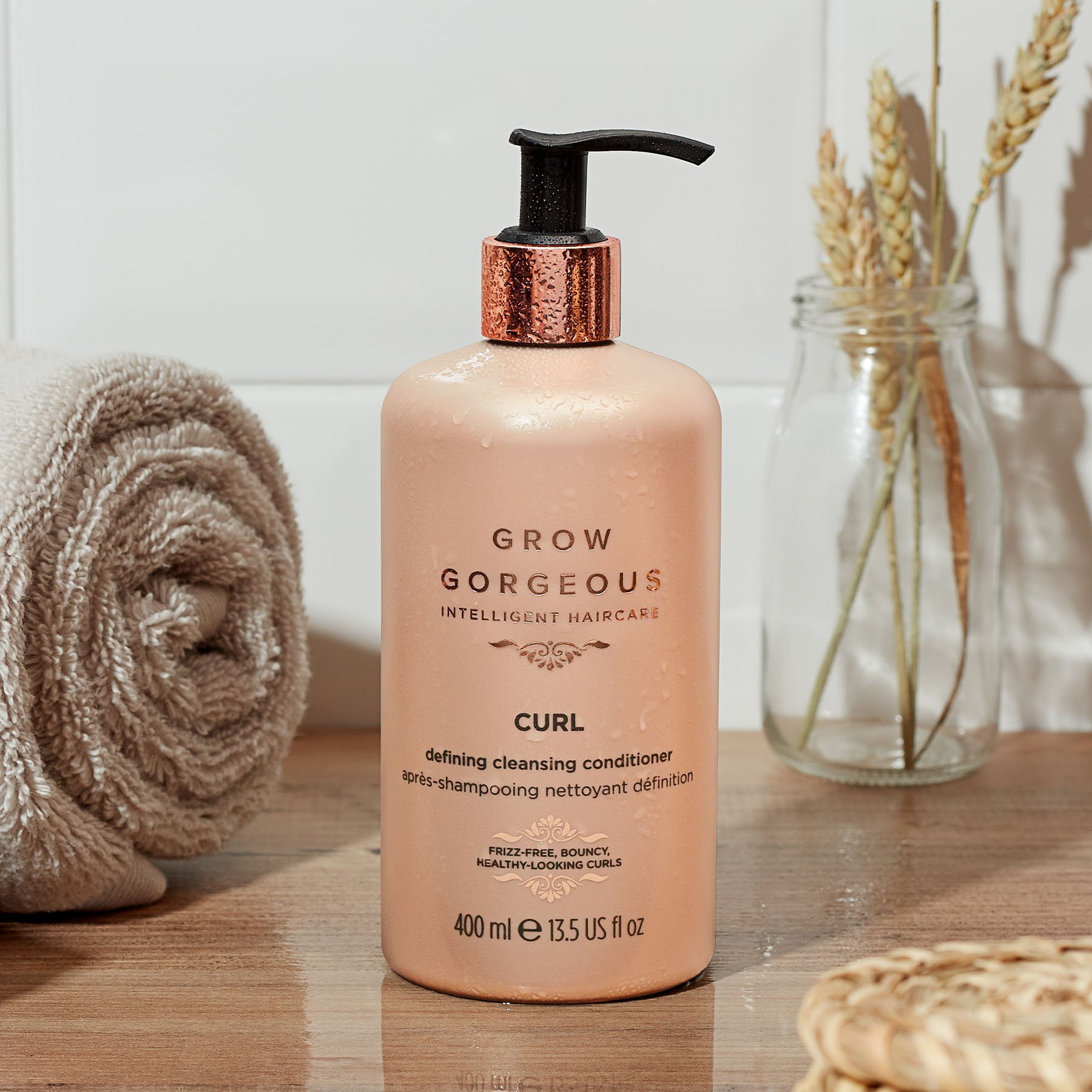 Many modern shampoos and conditioners are formulated with Sulphates, Silicones, Phthalates, and Mineral Oil – and these ingredients can do more harm than good to your hair. Washing curly hair with these ingredients can affect your natural texture and curl pattern negatively, but Grow Gorgeous is a brand proudly stepping away from the norm. By removing these ingredients from our formulas our products are not only vegan friendly and gluten-free but good for your scalp and hair! But what does that have to do with co-washing hair?
Well, when you use traditional shampoos and conditioners to wash textured, curly, coily, or afro hair these ingredients can sap the natural moisture. Using a Grow Gorgeous shampoo and conditioner duo to combat this would be step one for most people. But we believe your curls need the best care possible. This is why we created a whole range especially for you.
Packed full of beneficial ingredients like caffeine to give your roots a stimulating boost and our Oat Lipids Complex to reinforce the scalp's natural barrier, this hair hero will keep moisture locked in and your tresses stress-free. The Curl Defining Conditioner is the first step to completely revamped and refreshed hair, but how do you use it?
How do I co-wash with the Curl Defining Cleansing Conditioner?
Co-washing does mean switching up your routine, but we've made it as easy as possible with our Curl Defining Cleansing Conditioner. It's simple!
Wet your hair
Take a generous amount of product, which comes in a 400ml bottle so you'll always have plenty, and massage into your scalp
Once you've made sure your roots are saturated, smooth the product through the lengths of your hair
Let the product sit for three minutes
When it's time to rinse do so thoroughly, but keep massaging your scalp as you go
Now that you're a co-wash convert – it's important that you know what mistakes to look out for with your routine. We've covered the basics below so you can focus on keeping your curls in their best condition without having to stress the details.
Do I need to shampoo occasionally?
Yes, we recommend shampooing your hair every 7-10 days just to give your scalp an extra cleanse and remove any product build-up. Many women love co-washing hair but find a break once a week or so can yield even more benefits for their crowning glory. We recommend using our Defence Duo for a refreshing cleanse that'll remove any pollution or debris from your scalp, and leave you fresh to restart your routine.
Do I have to use a certain product when co-washing hair?
You must use a cleansing conditioner that is specifically formulated for co-washing hair. Using a normal conditioner to co-wash may yield silky smooth results the first time, but the scalp won't be properly cleansed and you may see a build-up of sebum and oil. Follow our guide and co-wash correctly, with a dedicated product, to see the best results!
I can skip my scalp, right?
Unfortunately, no. You must cleanse your scalp along with the rest of your hair. Sure, co-washing is primarily meant to keep your curls, kinks or waves in tip-top shape but your scalp works hard to keep your hair healthy too. Pay a little extra attention to it and you'll see the benefits.
Do I have to rinse when washing curly hair?
When washing curly hair, we've all purposely let our conditioner rest for more product pay-off, and if that works for you that's a good way to stay moisturised all day. We recommend rinsing our Curl Defining Cleansing Conditioner out thoroughly, otherwise you may risk product build-up on the scalp. Although not detrimental to the health of your scalp in the short term, it can make styling a pain and give hair a dull, lifeless look. We suggest washing your hair until the water runs clear for the best results.
What are our recommendations for ultimate curl pay-off?
If you're looking for super-hydrated, bouncy curls then we recommend using our entire Curl Range. This newly reformulated, curly girl-friendly collection consists of a super-hydrating Curl Defining Shampoo and Curl Defining Conditioner – use these every week to deep-cleanse your scalp and hair without risking any moisture loss. Not struggling with damage but just want your hair to feel extra nourished? Finish off your routine with our Curl Defining Leave In Butter. This holy grail product contains Hyaluronic Acid and Caffeine for smooth, manageable, bouncy curls.
Struggling with dryness or frizz control?
Co-washing is the first step to curl care. If you're still facing issues with split ends, you could incorporate our Balance Fibre-Sealing Split Ends Treatment into your routine for ultimate frizz control. This dream cream is formulated with the same Oat Lipids Complex as our Curl Range and will keep your damaged hair happy and healthy! Combine with your new co-wash routine for everyday glamour.