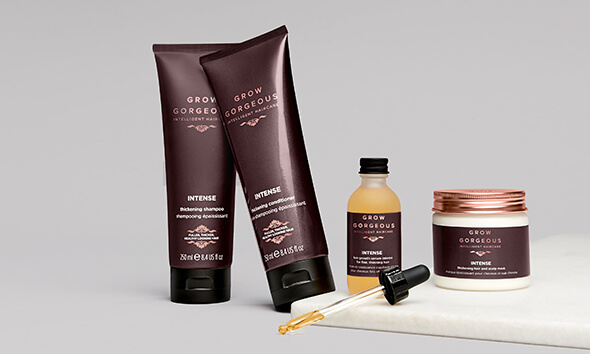 INTENSE RANGE
Hair type: Fine, thin hair.
Intelligent Haircare Ingredients: Biotin, Caffeine, Hyaluronic Acid, Rice Protein, Pea Peptides and Amino Acids.

SHOP INTENSE
Introducing Rachel Anise
As part of our Journey redefining our roots, GG has partnered up with the inspiring Rachel Anise (@BeautyProfessor) as an ambassador to discover how to express confidence and have a good hair day. "As a professor, a beauty writer, a wife, a mum and a devoted family member, I love examining all that has contributed to the person that I am today and, consequently, made me confident in my own skin. The Intense Range provides my hair with increased volume, density, strength and resilience."
Discover More
WAKE UP YOUR HAIR
Built to re-nergise roots and stimulate strands, our best-selling INTENSE routine has been formulated with an extra kick of high-performance active ingredients including Caffeine, Allantoin and Ceramide for fuller, thicker and healthier-looking hair.