Our hair can be pushed to its limits with everyday styling, heat damage and exposure to pollution in the air, all of which put a serious dent in our hair's health. When our minds and bodies are stressed out, over-worked and showing signs of exhaustion, we know to stop what we're doing, take a step back and evaluate what's happening to identify the cause of the problem.
In fact, a common reaction for when you're in need of a break is to drop everything and jet off somewhere sunny for a holiday; to take some time away and to recharge our batteries.
So why don't we all take this same approach to our hair?
Hair is a great indicator for our general health as stress and ill-health or lack of nourishment easily shows in hair. Thin and dull hair looks unhealthy whereas full and shiny hair with body and bounce radiates health and vivacious energy.
If your hair is looking worse for wear before it reaches breaking point (quite literally), stop and hit refresh on your hair care routine with a hair detox. So why not take that vacation for your hair? No passport required, in fact you don't even have to step foot outside your own home and you get that same refreshing feeling that two weeks sipping piña coladas gives you. So what's the catch? Here at Grow Gorgeous we're promoting #Haircation – the holiday for your hair.
What is a hair detox?
When you think about a detox what comes to mind? A legion of fabulously slender women who escape to luxurious yoga retreats in remote villages or tropical beach huts? Some serene hideaway up in the mountains where you spend your days sipping on green juices? Detoxes sound intense, right? Well a hair detox really isn't.
Respite for hair can be as simple as laying off heat styling, reducing the amount of product you use to avoid product build-up (more on this later) or taking a few minutes every day to give yourself a head massage to encourage good blood circulation to the scalp. Restoring hair's health can be done in many simple ways that have a huge impact in the overall look and feel of the hair.
A detox helps to remove toxins and excess sebum from the scalp, unclog hair follicles and balance the natural oils and scalp pH.
Why your hair needs a detox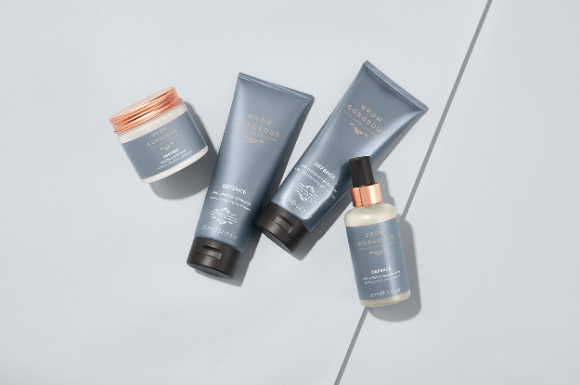 While there are several things you can do to help the condition of your hair improve, being more conscious of your environment and daily habits will make you more aware of the damage being done to your hair. The single biggest factor attributing to damaged, fragile hair is environmental pollution. Smog and toxins in the air cling to and can penetrate the hair and scalp causing hair to become dry and brittle.
There are two types of pollution; urban pollution, caused by car emissions, air-conditioning particles and smoke, and environmental pollution, such as  UV exposure coming from the sun which can lead to dry, uncomfortable, fragile skin. Basically, air pollution = hair pollution.
STEP 1: PREP with Detoxifying Scalp Scrub
As the name suggests, Defence Detoxifying Scalp Scrub offers the hair a scalp a detox of its own as the purifying pre-wash treatment exfoliates the scalp with natural castor oil beads andhttps://www.growgorgeous.co.uk/grow-gorgeous-scalp-detox-190ml/11374095.html?widget_id=597167 pomegranate fruit enzymes to break down product build-up and remove dead skin cells to decongest and refresh the scalp.
STEP 2: CLEANSE with Detoxifying Shampoo
Washing your hair with our Detoxifying Shampoo to gently remove impurities, preparing strands for the benefits of the rest of our range.
STEP 3: MOISTURISE with Detoxifying Conditioner
After shampooing, condition with our Detoxifying Conditioner. Infused with Allantoin to moisturise and condition the scalp, while Green Tea Extracts restores shine and encourages healthy-looking hair.
STEP 4: ENHANCE with Defence 3-in-1 Leave-In Spray
Finally, Protect and shield strands from atmospheric pollution, heat damage and colour fading aggressors with this lightweight mist. Expertly formulated with Polysaccharide Matrix, which helps to protect hair by acting as a barrier against atmospheric pollution and limiting damage. One of its other key ingredients organic sunflower extracts contains essential fatty acids, which help protect hair from becoming weak and brittle from the everyday elements and outdoor pollution.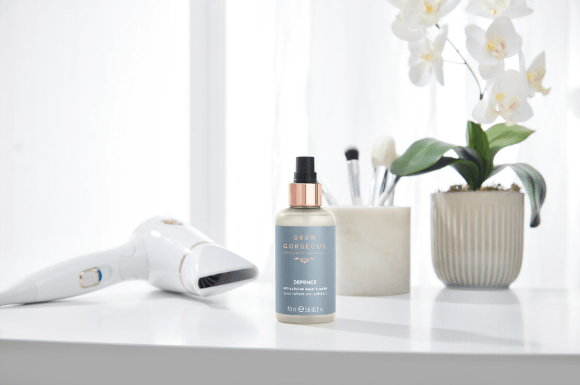 Shop Your Hair Detox Essentials